About Us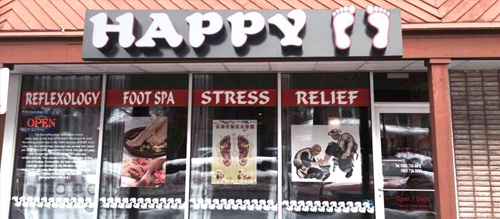 Luv Yu Foot Spa
Luv Yu Foot Spa is one of the first place in Rochester that utilize the traditional reflexology methodology started by Coco in 2013. She brings a great and talented team of massagists with strong traditional Chinese medicine background and passionate attitudes to serve. Their impeccable skills are widely recognized in Rochester. We are the the pit crew of your everyday life because we will freshen you up as new after a day of hard and tiring work.
Coco
Coco is the founder and first massagist of Luv Yu Foot Spa. She has ten years of experience in traditional Chinese reflexology and has opened foot spas in China and New York City. She was also the cover story for "Foot Therapy China". Her beauty does not only come from her kindness, warm-hearted smiles, elegant temperament, but also her love and passion to develop and research further and better techniques to satisfy our clients. She has not received any complaints or dissatisfactions during her
Bing
Bing is a hard working and kind guy. He grew up in the southeast part of China and practiced as a massagist since he was 20. When he met Coco in China, he fell for her charisma and decided to pursue a better career with her in the United States. During the first few years, he received training at a massage school in New York City while doing apprenticeship at Coco's store. When Coco moved to Rochester to open Luv Yu Foot Spa, Bing followed her and became one of the oldest team member. He is stil
Jeff (Left)
Jeff has been with us for a month now. He was trained in both China and in a massage school in New Jersey. Despite his unfamiliarity with our store, he knows his way about reflexology. He is the kind of guy who doesn't like to say much but rather would present himself through his work. Customers have expressed their satisfaction of his service constantly in the few weeks that he has been with us.
David (Left)
David is the newest member of our team. He has years of experience as a massagist both in China and in New York City. He is especially good with controlling his pressure. Always trying to make sure his customers receive the best service, he has already earned several customers who would come back for his massages specifically.
Tom
Tom is the jokester and always brings the laughter in this place. He joined us in October and had played an important role in our team since. He received his training in the same place as Bing studied and has been recommended by his mentor as an excellent student to us. Lots of customers remember the tatoo he has on both of his wrists. They are symbols in Chinese Mahjong that he enjoys to play. Although his English skills are still in the learning stage, his friendliness is still spread with his